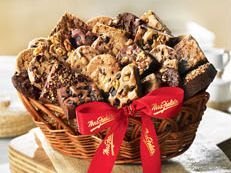 How cool! Mrs. Fields just started a super cool referral program where we can all earn FREE treats. As soon as you get three others to sign-up under you they will give you a 24 Nibbler bite-sized cookies tin ($19.99 value) for FREE!
The more that sign-up under you the better your prize will be. The best prize is a 48 Cookie & 24 brownie basket worth $109.99! Those who sign-up under you don't even have to buy anything…all they have to do is sign-up underneath you!
Yummy! If any of you would like to sign-up under me (I would love some free cookies and I'm sure hubby would too! 🙂 ) just leave a comment or shoot me an e-mail (bargainblessings at gmail dot com) and I'll send you the referal e-mail. After you are signed up, you can start refering and earning FREE cookies too! If you would rather not sign-up under my referal you can always go directly HERE. 🙂
Yay! This should be fun…hopefully we can all earn some yummy treats!
Like this deal? Sign-up for the Bargain Blessings Daily Deal e-mail HERE so you never miss another bargain!

(Thanks Couponers United!)