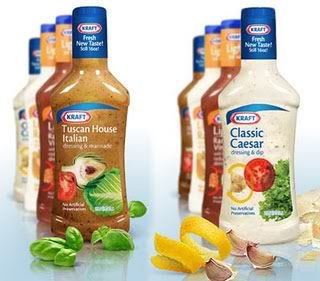 Update: Thanks to all the readers who reported the following varieties are also working:
Blue Cheese
Asiago Parmasean Balsamic Vinagerette
Zesty Lite Italian
Tuscan House Italian
Creamy Poppyseed
Light Rspeberry Vinaigrette
Light Sicilian Roasted Garlic
Roka Blue Cheese
Light Ranch and Light Italian
There is a new catalina deal and a printable that will allow us to score some FREE Kraft Dressing at King Soopers. Here is your scenario:


Buy (4) Kraft Dressing $1.67 each (Ranch and Blue Cheese are the only two varieties that are currently confirmed for this deal)
-(4) .55 IPs HERE (IE) (FF)*you will need two computers to get 4 coupons or (5/2 SS)
-$3 Catalina for buying (4) Dressings
=.33 Money Maker!
If you got your Kraft Sample Pack which includes a $10 rebate, you can use these to get your closer to the $30 of Kraft products that you need to spend.
Keep in mind that some stores do have a "3 of the same coupon" rule, so this may be a bit of a YMMV deal. I do however, suggest speaking with your store manager to see if they will make an exception so you can get your $3 catalina.
Like this deal? Sign-up for the Bargain Blessings Daily Deal e-mail HERE so you never miss another bargain!

(Thanks My Price is Right!)