Coscto membership: Is it right for me? For my family the answer is, "YES!" I have been a member for nearly 6 years and have saved thousands of dollars with my Costco membership. A Costco membership is not for everyone so be an weigh the pros and cons before you become a member.
Costco only accepts Cash, Check, Visa and Mastercard Debit (these cannot run through as credit), and American Express Credit Card for payment. Costco hours are not your normal store hours and each location could vary slightly. The hours to my local store are 11 a.m. to 8:30 p.m. Monday through Friday. Saturday 9:30 a.m. to 6 p.m. and Sunday 10 a.m. to 6 p.m. Locate a warehouse here for more information.
Membership Options
In order to shop at Costco you must be a member-with the exception of a Costco Cash card (see below).
**If you decided to join take a Costco member with you to the membership desk. As a new member referral you will both receive a $10.00 Costco Cash card upon sign-up! **

The basic Gold Star membership is $50.00 a year. With this membership you will have access to Costco's Warehouse and most of Costco's services. For most member this option provides the necessary services. Read the
Costco Membership Benefits and Services brochure
for more information.

The Executive membership is the highest level of membership and is $100 a year. The biggest perk with this option is members receive a 2% back on all purchases made at Costco. You can receive up to $500 backIf you plan on spending $2,400 or more at Costco in a year, this membership is well worth it because it will pay for itself.
Would you like to try it out risk FREE? If you do not earn $50 from the 2% back reward, the cost of an Executive Membership, you will get the difference back. For example, you sign up for an Executive member and pay the extra $50. At the end of the year your check is $35.00, Costco will give you back the remaining $15.00-the cost of the upgraded Executive membership. They will also reverse your membership, meaning your membership steps back to the basic Gold Star.
If you start a Gold Star membership in June and January you decide to get an Executive Membership, the executive fee will be prorated, you will be charged $21.00 instead of the full $50.00. Once again if your total 2% reward is less than $21.00 they will give you the difference back.
Other Executive Membership Perks Include:
Costco is open one hour earlier just for Executive Members (I love this benefit!)
Travel Value-added extras on select vacations and cruises.
Lower prices on check printing, auto loans and identity protection
Larger Costco Cash card amounts for mortgage, real estate and home equity transaction
Account bonus for money market and online investing accounts
Free roadside assistance for vehicles covered through the auto insurance program
Extra travel benefits
Monthly Costco Connection Magazine
In California only: Group Dental Plan/Individual Health Insurance
In California, Hawaii, Orgeon, and Washington: Business Health Insurance
I have been an Executive Member for 2 years now and love the 2% reward benefit. Each year it just about covers my total Membership costs. Read more about the 2% reward here.

Business Membership is available for business owners and managers and allows the purchase of products for business, personal, and resale use. Business Members may upgrade to the Executive Business Membership to add the Executive Membership perks.
The Business Membership program has special offers including: Business phone service, business web site, merchant credit card processing, payroll services, business check printing, and small-business 401K plans.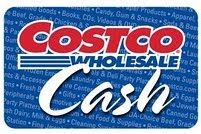 If you are not a member and want to shop at Costco get a Costco Cash card from a Costco member. Costco's website states: "Members and non-members may use the cash cards to shop in the warehouse or online." Keep in mind that only members can reload or purchase these cards.
Costco Specialty Departments
1 Hour Photo
Costco's photo lab is excellent! Not only do they have the best prices, they have great quality too.They offer excellent customer service too. My husband is a photographer and several times has had to reprint entire orders because of goofs-both Costco's fault and ours. If you think there is a problem with the print they will re-print at no charge. Click on pricing at the very bottom of this page for more product pricing.
Optical
Costco offers low prices, good service, and quality options for those needing glasses and contacts.
Food Court
If we choose to eat fast food we like to eat here. They have a LARGE hot/polish dog and refillable drink for $1.50. They also have a HUGE slice of pizza, non-fat yougurt, berrie smoothie for all under $2.00. They do have tables inside to sit and eat.
Other Services
Other in-store departments that may be available are Hearing Aid Service, Gas Station, Butcher Shop, Pharmacy, Bakery, APS processing, BBQ Deli, Business Products, Rotisserie Chicken, Service Deli, Special Order Kiosk, Take Out Pizza, and Tire Shop. Find out if these departments are in your local store here.
Other Costco services include Auto program, Boat & RV financing, event tickets, high yield saving accounts and CD's, identity protection, Mexico travel auto insurance, personal check printing, online investing. Find out more about these services at Costco.com.
Home and Auto Insurance
When we moved to Mississippi a few years ago we shopped around again for insurance. We were disappointed to learn how expensive it was going to be and we moved from California! I looked into Costco Home and Auto Insurance provided by Ameriprise and ended up saving about $500 a year! We switched providers and have been very happy ever since.
Costco's 100% Satisfaction Guarantee
On Merchandise: We guarantee your satisfaction on every product we sell with a full refund. Product-specific limitations apply. See the membership counter for details.
On Membership: We will refund your membership fee in full at any time if you are dissatisfied.
Price Check
I have heard many people refer to Costco as the $100 dollar store. Yes, because Costco sells in bulk you are going to pay more! I keep a $350 monthly budget and I shop at Costco on a weekly basis, so with careful planning you can shop at Costco and not break the bank.
Here are some recent prices of items that I like to buy from Coscto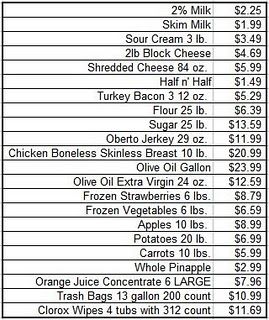 Sam's vs. Costco
Saving A Bundle reader Wendy shares her thoughts, "When I did the cost comparison between Sam's and Costco, I honestly thought Sam's would be cheaper most of the time-I was wrong. Costco was often cheaper OR Costco's much higher quality organic product was only a little bit more expensive."
Wendy put together a
price list comparison
between Costco and Sam's Club. This comparison was completed about a year ago so overall prices may have fluctuated a little but it helps to see that Costco does have great prices!
Coupon Booklets
Costco sends its members coupon booklets about 9 times a year. These are the only coupons that Costco accepts. They do not accept manufacturer coupons. The coupons from Costco's booklet offers deep discounts from already discounted bulk pricing. I like to stock up when they send these out!
Here is one example of their coupon savings. Our family likes to eat popcorn, especially the Orville Redenbacher microwave popcorn. Costco sells the 30 regular sized bags for $9.96 and 42 mini-bags for $9.96. Right now there is a coupon offer for $4.00 off a box! This is huge savings! The limit is 4, so 4 I will buy and save $16.00!

Costco.com has a wide selection of items that might not be available in stores. If you can't find it in the store you are bound to find it online. The great part about their prices online is that shipping is included.
Depending on where you live Costco might not be available to you. If Costco is near you, you might want to do some investigating!
Costco has won me over with their quality products, great prices and coupons, and good customer service. Thanks Costco for saving my family money!
Natasha is a busy stay-at-home mom of three boys. She enjoys educating and encouraging others to live frugally on her blog, Saving A Bundle.
Like this deal? Sign-up for the Bargain Blessings Daily Deal e-mail HERE so you never miss another bargain!