If you are not a Home Depot Garden Club member yet, now is a great time to join. They are just starting to send out their end of summer coupons.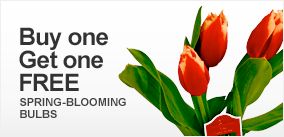 I was so excited to see a fantastic Buy One Package of Bulbs Get One Free coupon in my in-box today! If you are not a member already, you're missing out…we have been getting great coupons like this all summer long.
Like this deal? Sign-up for the Bargain Blessings Daily Deal e-mail HERE so you never miss another bargain!