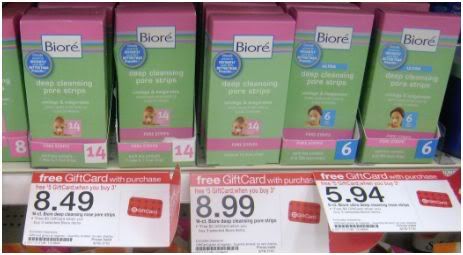 There is a unadvertised Biore Gift Card deal running at Target! Here are your scenarios:
$5 Target Gifts Card wyb (3) Biore Products
Scenario:
Buy (3) Biore 6ct or 8ct Deep Cleansing Pore Strips $5.94 each
Buy (3) Biore 4-In-One Self Foaming Cleansers $5.99 each
=$35.79
-(3) $2 IPs HERE (you will need two computers to get three) or $1 IP HERE
-(3) Buy Pore Strips Get Cleanser Free MQs (3/7 SS)
-(2) $5 Target Gift Cards
=$1.82 for all six products!
Keep in mind that some Target Gift Card deals are regional, so if you do not see the signs up make sure to price check the items. You will see the gift card deal on the price check screen if your area is participating. Additionally, some Target stores will not allow you to use a $ off coupon on the non-free item of a BOGO coupon, so this might be a little bit of a YMMV.
Like this deal? Sign-up for the Bargain Blessings Daily Deal e-mail HERE so you never miss another bargain!
(Thanks Totally Target for the Photo and the Deal!)