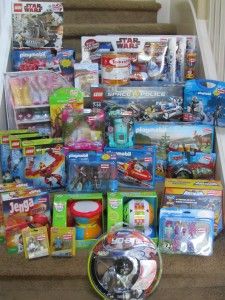 Target always has sweet Toy Clearance deals around this time of year. Combine those low prices with coupons and rebates and you'll really be in for some awesome deals. Here are a few scenairos to get you started along with some price reports:
Star Wars Blasters $9.98
–Star Wars rebate for spending over $25 on Hasbro Star Blasters (must be purchased by 7/31)
=?
Leapfrog Bakugan Tag book $3.48
-$3 Leapfrog Coupon
=.48!
Playmobil Toy Sets:
Canoe/Car Set $5.07
Firetruck Set $5.24
Small Sets $1.57
Jenga Max $4.74
Yo Be $3.74
Batman figure & bike $4.98
Leap Frog drum $4.98
Leap Frog alphabet ball $5.48
Tinkertoys $3.98
Didj Indiana Jones game $7.48
Batman figures .98
Cars collectible $2.48
50% off Lego Sets:
Star Wars $12.48
Space Police $24.98
Ben 10 $7.48
Keep in mind that clearance items and prices will vary by store. What hot deals did you find?
Like this deal? Sign-up for the Bargain Blessings Daily Deal e-mail HERE so you never miss another bargain!

(Thanks for the deals, prices and photo Thrifty and Thriving!)