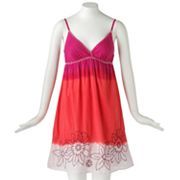 Kohl's is currenlty having some really sweet deals on thier website. The best part is that some of their new coupon codes are stackable and make those deals even better!
Use UTAKE20 to take 20% off your purchase
Use LOWPRICE15 to take another 15% off (in top of the 20%)
They are also currenlty offering .99 cent shipping per item through tomorrow, August 28th! Make sure to check out their clearance section to find some seriously awesome deals! I love this Angie Dip-Dyed Floral Dress for only $5.53 shipped after the stacked codes and cashback! These codes would also work great on high price items like home electrics and luggage! I am going to need a new hand mixer in the near future, so I'm considering the Kitchen Aid mixer which ends up being only $33 shipped (down from $54.99)!
To top it off, make sure to go through Ebates to get another 4% Cashback plus a $5 bonus if it is your first time shipping through them!