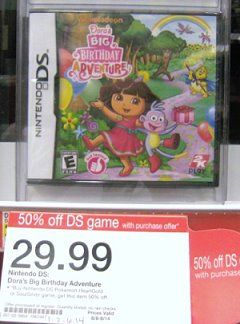 Here are a few more Target Deals to add to your shopping list! Keep in mind that a few of these scenarios involve using Target Mobile Coupons. There was a new set of mobile coupons sent out this morning, so if you are not signed up already you will not be able to get them until the next set is sent out. Head on over HERE to receive Target Mobile Coupons. You will need to have an iPhone, Blackberry, or something similar that has internet access and can display a picture.
Dora Crystal Magic Coloring Book with Shiny Stickers $3.59
-$3 Dora Target Mobile Coupon
=.59
Leapfrog Tag Book Dora the Explorer Dora Goes to School $13.99
-$4 Tag Coupon
-$3 Target Mobile Coupon
=$6.99
Leapfrog Tag Jr. Book 1-2-3- Dora! $10.99
-$4 Tag Coupon
-$3 Target Mobile Coupon
=$3.99
Dora Lenticular Puzzles $3.99
-$3 Target Mobile Coupon
=.99
Buy (2) Kraft Deli Fresh Cheese $2.25
Buy a Loaf of Oroweat/Arnold Bread $1.89 (will be free for buying cheese)
-(2) $1 Kraft Coupon
=$2.50 for everything!
Buy Pokemon Nitendo DS Game $39.99
Buy Dora's Big Birthday Adventure Nitendo DS Game $29.99 (will be half off for buying both games making it $15)
-$10 Target Coupon
=$44.98 for both
Like this deal? Sign-up for the Bargain Blessings Daily Deal e-mail HERE so you never miss another bargain!

(Thanks Totally Target for the deals and the photo!)