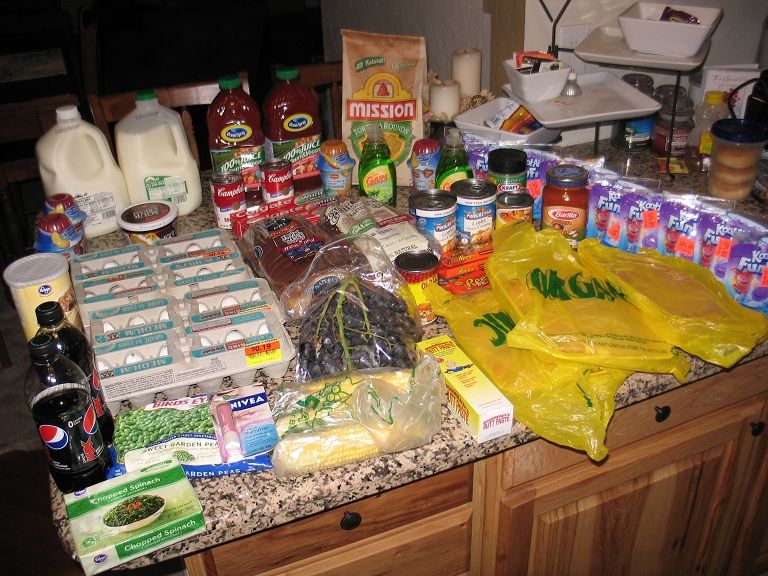 King Soopers: I got a big bag of yummy black grapes, two loves of bread, frozen spinach and peas, 4 dozen eggs that were marked down to .14 each, 3 free tubes of Colgate toothpaste, sour cream, two cans of cream of mushroom soup, shredded parmesan cheese, bread crumbs, Barilla pasta sauce and two gallons of milk. I spent a total of $21.85.
Rite Aid: I bought 2 bottles of Pepsi Max (the stuff isn't bad!), 3 bottles of Gain dish soap, Boudreaux's Butt Paste, Nivea Kiss of Shine lip care, and some candy for fillers. Once I receive my Single Check rebates back I will have made a total of $2.06.
Safeway: I scored some very yummy Ocean Spray juices for $1.29 each after $1 peelies, 2 cans of Progresso soup, 10 Kool Aid Fun Fizz packs that were free after being on clearance for 50% off and my $1 tearpad coupons, Old El Paso Enchilada Sauce, Mission Chips, and four Del Monte Smoothie mixes. My total out of pocket cost was $6.61.
Sunflower Market: Stocked up on 10lbs of Chicken breast and got a few ears of corn for a total of $19.96
This week's dinner menu includes: Stuffed Parmesan Spinach Chicken, Pizza, Enchiladas, Tuna Noodle Casserole, and Whole Chicken with potatoes and veggies.
Total spent this week: $46.36
Total for September: $46.36
Total for 2010 (on groceries, toiletries, and cleaning supplies): $698.84
Like this deal? Sign-up for the Bargain Blessings Daily Deal e-mail HERE so you never miss another bargain!