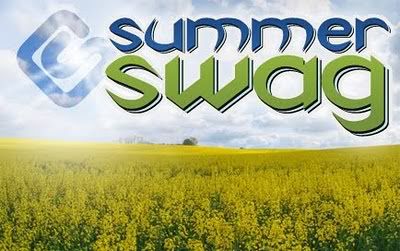 Are you a member of SwagBucks yet? If not, now is an awesome time to join! Check out this message from the SwagBucks blog:
Yesterday I told you Monday was going to be a big day for Swag Codes, and it is – AT LEAST 5 different codes will be coming your way on Monday!
That's not even the best part, though. The best part is why we're having a big code day.
It's the kickoff to our Summer of Swag! We've got some really big stuff that will be debuting this summer – things you've been asking for – and TSG can't WAIT to share them with you. It's definitely going to be a summer to remember at Swagbucks.
In the meantime, this coming week is going to be a BIG one too. In addition to going code crazy on Monday we'll be highlighting a different bill every day – BIG bills, too. As an added bonus, every day the featured bill will be awarded to every 7th win on Swagbucks! On Monday, that bill will be the 25 Swag Buck bill.
Yay! I am so excited for all these codes! We have been racking up the Amazon Gift Cards like none other lately.
Want to know more about SwagBucks? Check out this post. After you've done that, go HERE to get signed up so you don't miss out on any of Summer of Swag!
Want all the latest updates on SwagCodes when they become available? Make sure you are following Bargain Blessings on Facebook!
Like this deal? Sign-up for the Bargain Blessings Daily Deal e-mail HERE so you never miss another bargain!