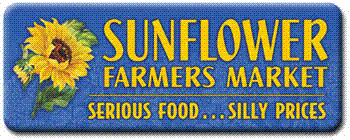 Remember that Wednesdays are double ad Wednesdays at Sunflower, so you can take advantage of this week's deals combined with last week's deals! Sunflower also gives a .10 per bag credit so make sure to bring your bags. Remember, they can be bags from any store, even plastic bags count!
View last week's deals
HERE
!
New to Bargain Blessings? Check-out the Grocery Store Deal Grading System
HERE
.
Meat/Fish
Mahi Mahi Fillets $3.88/lb A-


Chicken Tenders Family Pack $1.88/lb B-
Produce
Red Seedless Grapes .88/lb A


Yellow or White Peaches $1.49/lb B


Champagne Mangos .33 A-


Italian, Yellow or Mexican Grey Squash .88/lb C+


Green Cabbage .33/lb A-


Seedless Watermelon .33/lb B-
Organic Produce
Mild Yellow Onions .99/lb C+


Garnet or Jewel Yams .99/lb B
Grocery
Stretch Island Fruit Leather .5oz .33 B
Oats .50/lb A
Brown Rice .69/lb A-


Glutino Guten-Free Crackers 4.4oz $2.99
-$1 IP HERE (if pretzels are included in the sale)
=$1.99 B
Frozen
Conte's Gluten-Free Pizza 16oz B?
Household
Seventh Generation Cleaners 32oz $2.99
-$1 MQ (4/11 RP)
=$1.99 B
Like this deal? Sign-up for the Bargain Blessings Daily Deal e-mail HERE so you never miss another bargain!