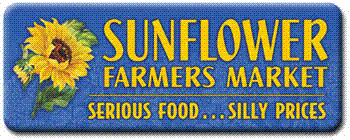 Remember that Wednesdays are double ad Wednesdays at Sunflower, so you can take advantage of this week's deals combined with last week's deals! Sunflower also gives a .10 per bag credit so make sure to bring your bags. Remember, they can be bags from any store, even plastic bags count!
View last week's deals
HERE
!
New to Bargain Blessings? Check-out the Grocery Store Deal Grading System
HERE
.
The ads vary a lot depending on your location this week, so make sure to take a look at your local ad to double check prices. Please let us know if you find any other great deals in your area!
Meat
85% Lean Ground Beef family Pack $1.57/lb B+
Mahi Mahi Fillets $2.97/lb A *regional price
T-Bone Steak $5.99/lb C *regional price
Produce
On The Vine Cluster Tomatoes .99/lb B


Apricots and Red or Black Plums .99/lb B- (Apricots .88/lb at Greenwood Village location A-)
Green Seedless Grapes .99/lb B+


Seedless Watermelons $2 A-? *It really depends on size. ($1.50 at Greenwood Village location A)
Large Cantaloupes .33 A


Organic Strawberries 1lb $1.50 A (Greenwood Village location only)
Deli
Coleslaw .99/lb B+
Grocery
Steel Cut, Rolled or Quick Oats .50/lb A
Like this deal? Sign-up for the Bargain Blessings Daily Deal e-mail HERE so you never miss another bargain!