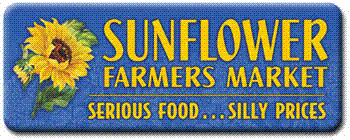 Remember that Wednesdays are double ad Wednesdays at Sunflower, so you can take advantage of this week's deals combined with last week's deals! Sunflower also gives a .10 per bag credit so make sure to bring your bags. Remember, they can be bags from any store, even plastic bags count!
View last week's deals
HERE
!
New to Bargain Blessings? Check-out the Grocery Store Deal Grading System
HERE
.
Meat

85% Lean Ground Beef $1.88/lb B-


Produce

Red Raspberries 6oz .88 A


Packham Pears .88/lb A-


Mangos .50 B


Red or Green Leaf Lettuce .88 C


Beefsteak Tomatoes .77/lb A-


Bunched Broccoli .77/lb B


Large Red Bell Peppers .50 A


Cucumbers .50 B-


Baby Peeled Carrots 2lb $2 B-


Green Onions .50 B-


Carrots 1lb .50 C


Organic Produce

Peaches and Nectarines $1.99/lb B-


Grocery

Anthenos Hummus 7oz $1.50
-BOGO IP HERE
=.75 each A
Kettle Chips 14oz $2.99
-$1/2 IP HERE
=$2.49 C+
Organic Peanut Butter 16oz $3.99 C


French Meadow Organic Bread 20-24oz $2.99
-$1 IP HERE
=$1.99 A
Organic Oats: Steel Cut, Rolled, or Quick .99/lb B


Lundberg Organic Rice 2lb $3
-$1 MQ found in the King Soopers Optimum Wellness Magazine found in the Produce Department of most stores
=$2 B+
Frozen

Skinny Cow Ice Cream Novelties 6-12ct $3.99
-$1 IP HERE
=$2.99 C (better deal at Walgreens)
Like this deal? Sign-up for the Bargain Blessings Daily Deal e-mail HERE so you never miss another bargain!