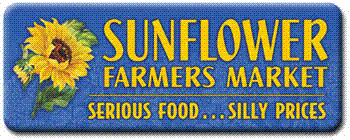 Remember that Wednesdays are double ad Wednesdays at Sunflower, so you can take advantage of this week's deals combined with last week's deals! Sunflower also gives a .10 per bag credit so make sure to bring your bags. Remember, they can be bags from any store, even plastic bags count!
Meat
New York Strip Steak $4.97/lb B

Cauliflower .99 each B


Gala Applies .57/lb A


Red or Black Plums .88/lb B+


Yellow or White Donut Peaches .88/lb B+


Hass Avocados .88 each B-


Onions 3lb Bag $2 C


Green Bell Peppers .50 B+


Cucumbers .50 B-


Bunched Broccoli .88/lb B-


Carrots 5lb bag $2 B-


Large Red Onions .50/lb B-


Green Beans .99/lb B


Green Cabbage .33/lb B



Baby Peeled Carrots 1lb $1.50 B-


Red or Yellow Onions .99/lb B+



Vitamin Water 20oz $1
-$1/2 MQ found in the August issue of All You magazine
=.50 each B
Garden of Eatin Tortilla Chips 16oz $2.99
-$1 Garden of Eatin Coupon
=$1.99 B
Salt Water Taffy $1.99/lb B-


Rolledm Quick, or Steel Cut Oats .50/lb A
Buy (4) Mozzarella Fresca Fresh Mozzarella Cups 8oz $3.50
-$6 off 4 Mozzarella Fresca Coupon *use promotional code 43420969
=$2 each A-
Like this deal? Sign-up for the Bargain Blessings Daily Deal e-mail HERE so you never miss another bargain!