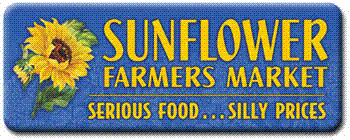 Remember that Wednesdays are double ad Wednesdays at Sunflower, so you can take advantage of this week's deals combined with last week's deals! Sunflower also gives a .10 per bag credit so make sure to bring your bags. Remember, they can be bags from any store, even plastic bags count!
Meat
Steak Sale including: New York Steaks, Porterhouse, T-Bone, Sirloin Tip, Tenderloin, Tob Sirloin, Rib Eye and London Broil 40% off *These usually end up being around C graded prices after the discount.
Cantaloupe .77 each A-


Strawberries 1lb $1.25 B+


Blackberries 6.6oz $1.25 B


Blueberries 4.4oz $1.25 B


Raspberries 6oz $1.25 B


Yellow Peaches and Nectarines .88/lb B+


Bartlett Pears .88/lb A-


Red, Green and Black Seedless Grapes .88/lb A


Hass Avocados .99 each B-



Plums or Pluots .99/lb A


Kiwi .50 C


Celery .99 A-


Ginger Snaps 14oz bag $1.50 B+


Soyjoy bars 1.06oz .50
-$2/10 MQ (8/22 SS)
=.30 each A-
Like this deal? Sign-up for the Bargain Blessings Daily Deal e-mail HERE so you never miss another bargain!