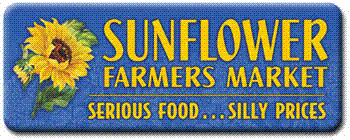 Remember that Wednesdays are double ad Wednesdays at Sunflower, so you can take advantage of this week's deals combined with last week's deals! Sunflower also gives a .10 per bag credit so make sure to bring your bags. Remember, they can be bags from any store, even plastic bags count!
Meat
85% Lean Ground Beef $1.88/lb B-


Boneless Skinless Chicken Breasts $1.88/lb C


Deli Sliced Black Forest or Honey Ham $4.99/lb B-


Corn on the Cob .17 A-


Whole Seedless Watermelon $1.50 A-


Broccoli Crowns .88/lb B-


Hatch Green Chilies .88/lb B+


Utah Peaches .99/lb B


Hass Avocados .88 each B-


Organic Girl Salad Varieties 5oz Clamshells $1.99 B
*Keep an eye out for Blinkies
Green Bell Peppers .50 A-



Red, Green and Black Seedless Grapes $1.50/lb B+


Red or Green Leaf Lettuce $1.50 B-



California Olive Ranch Extra Virgin Olive Oil 16.9oz $5.99
-$1 MQ (8/29 SS)
=$4.99 B-
Like this deal? Sign-up for the Bargain Blessings Daily Deal e-mail HERE so you never miss another bargain!