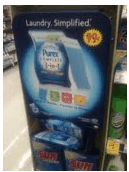 |
Some Walgreens stores sell Purex 3-in-1 Sheets 2 count packages. Use this scenario to get them for FREE!
Buy Purex 3-in-1 (2) Count Package .99
=FREE!
Please keep in mind that this coupon will beep and need to be adjusted down because of the penny overage. Have you seen these at your store?
Like this deal? Sign-up for the Bargain Blessings Daily Deal e-mail HERE so you never miss another bargain!

(Thanks for the deal and photo Passion for Savings!)