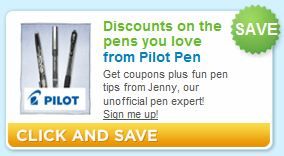 It is almost the start of a new quarter and the new coupons are rolling out! There is a new coupon available on Coupons.com for Pilot Pens. You can soft by "Office Supplies" if you have trouble finding it. You will need to sign-up and then you will have access to a $1 off coupon. Here is a great scenario to go along with this coupon at Walgrees:
Buy Pilot G2 Pens $2.99
-$1 IP HERE
-$1 IVC Coupon found in the July Coupon Booklet
=.99 each
There are also some of these pens that have a rebate on the back. If you are able to find one of those packs you'll make this into a .26 Money Maker!
Like this deal? Sign-up for the Bargain Blessings Daily Deal e-mail HERE so you never miss another bargain!

(Thanks Wild for Wags!)