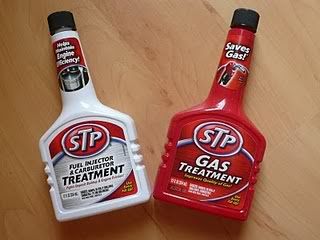 There is a great new STP coupon that makes for some sweet deals at Walmart. Here are your scenairos:
STP Fuel Injector & Carburator Treatment $1.87
-$2 IP HERE
=FREE!
STP Gas Treatment $1.77
-$2 IP HERE
=FREE!
Keep in mind that prices to vary a lot at Walmart, so I cannot guarantee that the prices will be the same at your store. Let us know if you decide to get in on this deal!
Like this deal? Sign-up for the Bargain Blessings Daily Deal e-mail HERE so you never miss another bargain!

(Thanks Money Saving Madness….for the deal and the photo!)