Here is another great bargain for you to get in on at Target this week! Select vitamins, including Zarbee's Naturals are on sale Buy One, Get One 50% off and there is also a very high value coupon for $7 off Zarbee's Naturals Kids Honey Multivitamin that make for an awesome deal!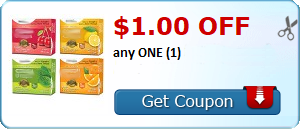 In order to get access to this high-value coupon you'll need to sign-in and then sign-up for the Zarbee's newsletter. After signing up you'll get access to two coupon prints for a total of $14 off!
Here is your scenario:
Buy (2) Zarbee's Naturals Honey Multivitamin $13.99 (one will be 50% off with sale through 1/23)
-(2) $7/1 Zarbee's Naturals Kids Honey Multivitamin Printable Coupon
=$3.50 each!
Make sure to head on over here to check out all the other great Target deals that I've shared this week!
(Thanks $7/1 Zarbee's Naturals Kids Honey Multivitamin Printable Coupon!)