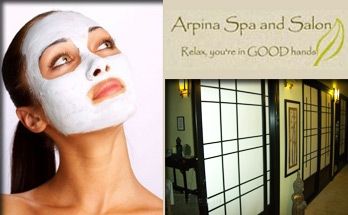 For all you local Denver area readers: WeeklyPlus just released a new deal. This time if is for a 60 Minute Specialty Mask from Arpina Salon and Spa in Lone Tree, CO. You'll get to choose any of the masks that Arpina offers including the Charcoal Essence Mask, Brightening Essence Mask, Cucumber Essence Mask, Coenzyme Q10 or the Royal Jelly Essence Mask.
I am such a sucker for these types of deals…it is totally my way to splurge…but hey, that is ok sometimes right?!? When you're saving hundreds of dollars each month, it is acceptable to make a $33 splurge…which is a steal considering these normally go for $80! I've never been to this spa, but the pictures look super nice!
Keep in mind that this deal is for first time Arpina customers only. There is limited availablity on this one…so snag it soon if you want it!
Like this deal? Sign-up for the Bargain Blessings Daily Deal e-mail HERE so you never miss another bargain!