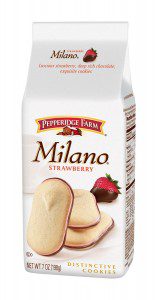 I was thrilled to get two reader e-mails this weekend from Sarah and Jackie who each won the Milano Grand Prize of 24 bags of Pepperidge Farm Strawberry Milano cookies! I have to say that I am mighty jealous since Milanos are my by far favorite cookies! 😉
It absolutely makes my day when you all are big winners…it actually feels like I'm the one that won something! With Amy winning a year of free diapers last month and now Sarah and Jackie this month…I'd say that we are on a roll! Hopefully we will have more big winners in September!
Like this deal? Sign-up for the Bargain Blessings Daily Deal e-mail HERE so you never miss another bargain!