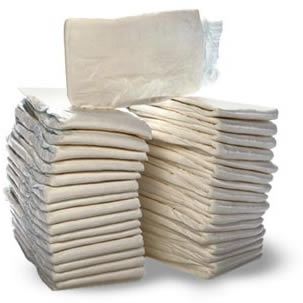 My friends Cassie and Alex with the Thrifty Couple are back with this week's best diaper deals!
Rite Aid: $11 for 2 Jumbo Packs and 1 Maga Pack Refill of Wipes
Buy 2 Huggies Little Snugglers/Mover Jumbo packs for $8.99 each = $17.98
Buy 1 Huggies Wipes Refill Packs for $6.99 = $24.97
Spend .04 more in your transaction (pick up stocking stuffer candy) to get your total over $25.00 after coupons = $25.00
Then use $3.00 of $20 Rite Aid coupon (for watching Rite Aid Video= $22.00
Then use two $2.50/1 printable for the diapers = $17.00
Then use $1.00/1 Huggies Wipes coupon 12/5 Smart Source Insert = $16.00
Then receive $5 Gift of savings gift certificate = final is $11.00 for two jumbo packs and 1 mega pack refill wipes or an average of $3.67 each.
Babies R Us: $25.32 Pampers Diapers Value Boxes and Value Box of Pampers Wipes
Buy 2 Pampers diapers value box for $40.99 each = $81.98
Buy 1 value box of Pampers wipes (320 ct.) for $10.99 = $92.97
Buy 2 Pampers 72 ct. ThickCare Wipes
Then use FREE Pampers Thick Care Wipes when you buy Pampers diapers for the purchase on the wipes 11/28 Procter and Gamble Insert = $92.97  and FREE wipes
Then use  two $1.00/1 Pampers coupon 11/28 Procter and Gamble Insert (see more coupon options above) – $2.00 = $90.97
Then receive a $15.00/1 Toys R Us/Babies R Us gift card, so when considering this discount = final is $75.97 for all three or $25.32 for each of the three items Plus the two 72 ct. wipes for FREE. And – every 10 packs of diapers, get one FREE on the Rewards R Us program.
CVS – Pampers Big Packs as low as $11.99 and FREE ThickCare Wipes

CVS is offering $10 Extra Care Bucks (ECBs) when you spend $30 or more on participating P&G products. Pampers diapers and Easy Ups are a participating product!
$11.99 Pampers Big Packs (participating baby product for ECB promo) and FREE ThickCare Wipes:
Buy 2 Pampers Big Pack diapers for $19.99 with card = $39.98
Buy 1 Pampers ThickCare wipes 72 ct.
Then use $4.00/$20 CVS purchase coupon for email sign-up = $35.98
Then use two FREE Pampers Thick Care Wipes when you buy Pampers box diapers for the purchase on the wipes 11/28 Procter and Gamble Insert = $35.98 and FREE wipes
Then use two $1.00/1 11/28 Procter and Gamble insert = $33.98
Then receive $10 ECBs for spending over $30 = $23.98 for two big packs or $11.99 each plus two FREE ThickCare Wipes