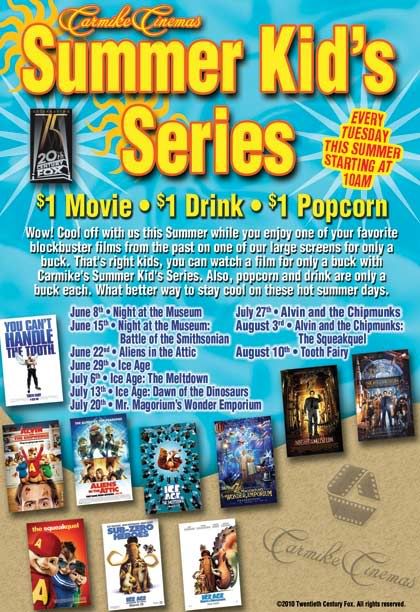 Carmike Cinemas is running a Summer Kid's Series each Tuesday at 10:00AM from June 8 through August 10. Movie tickets will only be $1! Plus, you you will be able to buy a drink and popcorn for only $1 each too! Now that is a deal! Below is the schedule of movies they will be showing:
June 8 – Night at the Museum
June 15 – Night at the Museum: Battle of the Smithsonian
June 22 – Aliens in the Attic
June 29 – Ice Age
July 6 – Ice Age: The Meltdown
July 13 – Ice Age: Dawn of the Dinosaurs
July 20 – Mr. Magorium's Wonder Emporium
July 27 – Alvin and the Chimpmunks
August 3 – Alvin and the Chipmunks: The Squeakquel
August 10 – Tooth Fairy
Go HERE to search for a location in your area!
Like this deal? Sign-up for the Bargain Blessings Daily Deal e-mail HERE so you never miss another bargain!

(Thanks Fun and Frugal!)