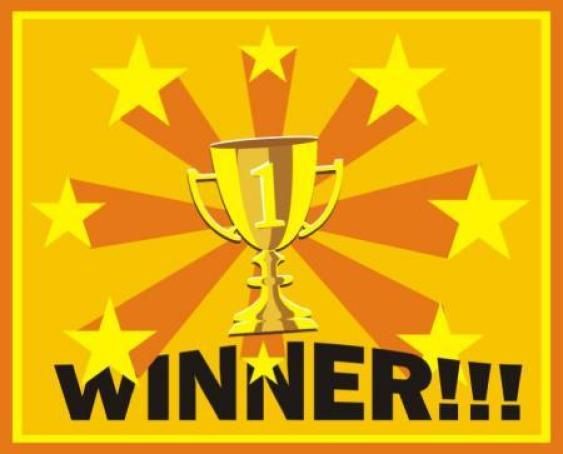 If you have a little extra time on your hands you might want to try your hand at a few of these instant win games and contests! I've posted about a few of these previously, but thought it would be nice to have them all in one place!
Head on over here to play the Play-Doh You Can Win! sweepstakes! Make sure to enter this code KDN185UV9JN34 to play. There will be 10 winners daily, through September 30th, who will win a $50 gift card! Plus, after playing, you'll be able to print a Play-Doh coupon. This coupon seems to change daily, so you may be able to print a new coupon everyday!
One of my awesome readers Amy already won a year's supply of Huggies! Make sure to visit the Huggies Rewards Program and get signed up! Maybe you will also win a Year of Free Diapers!
Collect as many tickets as you can in the Chuck E. Cheese Ticket Blaster instant win game and you'll have a chance to up to 30 FREE tickets! There are some restrictions on how the tickets can be used, so make sure to read the fine print.
(Thanks Savings and Stewardship!)
Play the Fla-Vor Ice instant win game to win one of over 100 prizes each day! Just enter your e-mail address to get going!
(Thanks Hip2Save!)
I was reminded of this one on my cereal box this morning! Play the Cheerios instant win game and you might be able to win a years supply of Cheerios! There is also a very nice coupon at the end of the game even if you don't win!
Remember to play the the Schick instant win game on their Facebook page! Even if you don't win a prize you will still get a $2, $3, or $4 coupon! I thought the memory match game on this one was a lot of fun!
(Thanks My Baton Rouge Mommy!)
Don't forget to enter the Michelin bike giveaway! Enter and you will have the chance to win a win a Giant Trance X1 Bike! It is a $3600 value! This contest ends July 31st.
Boogie on over HERE to play the new Sobe instant win game. You do not need a code to play. Just click on the "Play Now" button. If you are selected as a winner, you will be able to gain access to a Buy One Get One Free coupon. Make sure to turn off your pop-up blocker before you go to print your coupons! I forgot yesterday and lost all my prints. If that does happen to you, you can always go back and play tomorrow.
Don't forget to play the Wendy's Summer of Real game! Use the code 329492855844 in the Cup Code box to play. I won 30 My Coke points which scored me a FREE 20oz Coke!
(Thanks Who Said Nothing In Life Is Free!)
Play the Breyers Wheel of Delights instant win game and you will have three chances to win some awesome prizes like a Maid for a Day, Movie Tickets, or a Manicure and Pedicure! Now that is what I'm talkin' about!
Enter the Zantac Beat the Heat Sweepstakes and you will have a chance of winning a trip for 2 to one of two Man vs. Food destinations! Fun! You will also score a $3 coupon after you enter!
There is a new
Honey Nut Cheerios instant win game
! You could win a years supply of Cereal, 12 coupons, each redeemable for a box of Honey Nut Cheerios cereal (definitely not a years supply in my household! )! Just head on over here to test your luck. After playing, even if you don't win, you'll be able to print a coupon valid for $0.75 off One Box of Honey Nut Cheerios Cereal! This is higher value than most General Mills cereal coupons and should make for a sweet deal when paired with an in-store sale.
Don't forget to enter the Colorado Tourism Colroado Springs Summer Trip giveaway! The trip includes five nights and six days for four people and features an exciting array of fun activities such as an exhilarating whitewater raft trip with Echo Canyon River Expeditions, a visit to the fascinating rock formations of the Garden of the Gods, entrance to the world-famous Royal Gorge Bridge & Park, and an excursion aboard the historic Cripple Creek & Victor Narrow Gauge Railroad. Air, car rental and lodging are all included! Just click on the banner above to enter.
Kraft has a new really fun game called the
Noodleette
. To play, you just spin the wheel five times and try to get enough points to earn a FREE Kraft Mac and Cheese Dinner! The best part is that there does not seem to be a limit to the number of times you can play so you can just keep going until you win!
Remember to play the
Kroger Spin the Wheel Game
! You can play every day …so there is certainly plenty of time to win! Your prize will be loaded right on to your savings card and will automatically deduct next time you use it.
Lastly, the
Pace Instant Win Game
is still going on! Try your hand at winning one of 129,000 Free jars of Pace! Don't worry…you don't have to have a code to play, just click "Don't have a code? Get one here"!
Make sure to let us know if you win any of these! The odds have got to be pretty good considering how many there are! 🙂
Like this deal? Sign-up for the Bargain Blessings Daily Deal e-mail HERE so you never miss another bargain!