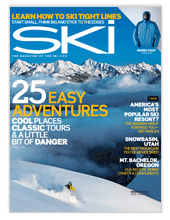 Hop on over HERE to request your FREE one year subscription to Ski Magazine!
Isn't it sad that I live in Colorado and neither my husband nor I have ever been skiing. Every year we say we are going to do it, but it just never seems to work out. Besides, spending a day outside in the cold falling on my butt doesn't sound all that appealing!
Like this deal? Sign-up for the Bargain Blessings Daily Deal e-mail HERE so you never miss another bargain!