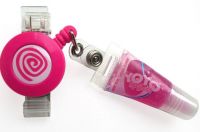 Whoo Hooo! Yet another great freebie…I don't know about you, but I'm excited to check my mail in the coming weeks with all these great samples and freebies!
Here is what you need to do to score your FREE Lip Gloss:
Click HERE and write a review about YOYO Lip Gloss (Click the Yellow Button)
Then email them at [email protected] with the log in you made at Total Beauty, along with your name and shipping address and your Mini will be on its way!
*All reviews must be submitted by January 15th, 2010
(Thanks Smart Couponing!)