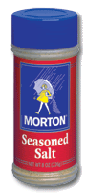 For those of you who have used Cellfire in the past, you know what an awesome and simple way it is to stretch that grocery budget just a little further. One of my favorite parts about Cellfire is that they offer coupons for products most of us need and buy anyway! As part of this giveaway, I will be highlighting three products that currently have coupons available over on Cellfire. Make sure to pay close attention…if you can name all three that I highlight during the next two weeks, you will get a bonus entry!
The first product that I'm going to highlight is Morton's Seasoned Salt. I've been using Morton's Seasoned Salt since we first got married. It adds just a little more punch than ordinary salt and can really make a difference in some dishes. One of my favorite recipes to use it in is my Chicken Pot Pie.
*******************************************************
Now here is the part you can really get excited about. This is the biggest giveaway I have ever hosted! Cellfire has generously provided me with a

$100 Grocery Gift Card

to give away to a Bargain Blessings reader. Yay! It will even be to the store of your choice! There are five different options to enter:
1.
(Required) Load the June Cellfire Coupons to your shoppers card
by going through this link
. Just click select on all the coupons and then clicking "Get Selected Coupons". It will then allow you to log-in or add your shoppers card if you are new. I've found it easier to create a separate account for each of my cards (one fore King Soopers and one for Safeway).
(leave a comment to let me know you've done so)
2.

Share the name of a dish that you use or would like to use Morton's Seasoned Salt in!
5.
Share the following on your Facebook page:
Win a $100 Grocery Gift Card to the store of your choice from Cellfire and BargainBlessings.com!
http://bit.ly/9QaXYj
and/or Tweet the following:
Win a $100 Grocery Gift Card from @Cellfire and @BargainBlessing http://bit.ly/9QaXYj
(leave a comment to let me know you've done so)
Please make sure to leave a separate comment for each of these ways to enter and leave your e-mail address so I have a way to contact you if you win! If you are reading this post through an RSS reader, or from the daily e-mail please note that e-mailing me is not an acceptable way to enter, you will need to come to the website and leave a comment.
I will randomly select a winner on Friday, June 25th! The winner will then have 48 hours to contact me!