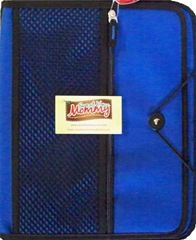 Many of you are familiar with the Bargain Blessings coupon organization method, but I think it is vital to find a system that works well for you. Everyone is so unique in this area and it can really make or break your experience all together. Today, I'm featuring a guest post writing by Kerri over at Save at Home Mommy!
Staying organized is super important in this coupon game! It not only allows you to get the best deals, it also helps make the whole process simpler and easier. You need to have a plan for how you handle the masses of coupons from newspaper inserts, magazines, blinkie boxes, mailers, tearpads and other resources. Below is the system I have found to work best for me. Tweak it, change it and make it work for you but I think the basics should work for most to keep you on track.
1. Have a place to store your newspaper inserts, magazines and weekly store ads. A small hanging file box with file folders should work great for most of you. I have recently moved to a file cabinet in my office since I needed the extra file space anyway. I have file labeled for Red Plum, Smart Source, P&G and Others as well as one in the front for that week's store ads. I also keep all my All You Magazines in the back instead of clipping all the coupons out of them.
2. Have a system for labeling and organizing your inserts. When I get my inserts from the newspaper on Sundays, I immediately clip any that I know I am likely to use and file them in my coupon binder. Then, I write the date on the front of the inserts with a marker and clip all like inserts together (if I got multiple papers that week). I have found that the small black clips that you squeeze open and closed work better than paperclips that were always falling off. I keep them filed in the appropriate folder with the newest in the front. These simple steps save me so much time when I need to locate a coupon.
3. Have some sort of coupon organizer/binder that will work for you. You can check out the Save At Home Mommy Coupon Binder that is exactly like the one I use! It comes with a guide on how to set it up and use it to make your shopping trips much easier. I have found that a binder is best because I can keep my store ads, shopping lists, coupons and everything else I need all in one spot. I have found that there is not a good accordion organizer large enough to meet my needs and I like that the binder allows me to have as many coupons with me as I want and keeps them all neatly contained. It also gives me a place to keep all my coupon booklets, retail coupons, restaurant coupons and any other coupons I find all in one place. If I have my binder, I am ready to save!
These steps should get you well on your way to keeping all those little money making coupons organized and easily accessible so your shopping trips are well put together and less frazzled.
Like this deal? Sign-up for the Bargain Blessings Daily Deal e-mail HERE so you never miss another bargain!