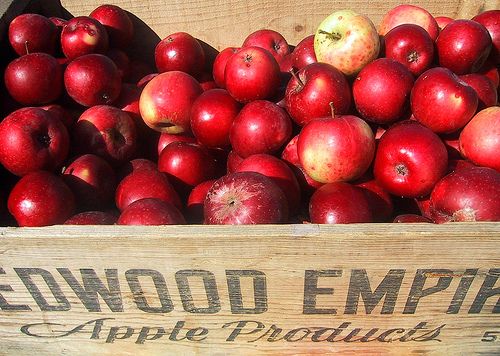 One of the biggest myths that get under any frugal shopper's skin is hearing someone say, "I'd love to save money like that but I can't do that and eat healthy." While I will admit that if you chose to eat organic only or have a very strict diet it can be difficult and more expensive to get the things you need that does not mean that you cannot eat healthy and coupon or even eat orgnaic and coupon. Here are some tips to find what you need to keep saving 50% or more on your grocery bill.
Email the companies you love regularly – Fact of the matter is that organic companies know that you are one of their most brand loyal customers out there and they put out less coupons because of that. However if you email them they will step up to the plate and send you some. I literally will walk through a store and think, "Its been a long time since I had Kozy Shack pudding, I should email them . ." and take mental notes to go back and have coupons for the next time I see it on sale. You can find a list of a few that I have emailed in the past here.
Visit the companies you love regularly and get on their email list – Some companies have regular email list and will periodically send out coupons through that route. So while you are emailing them asked to be put on their list or look for a link to subscribe to their site.
Check coupons.com for organic coupons – The almost always have 3 or 4 organic coupons per month so check them out. You can find other sites that I have downloaded coupons from here.
Keep your catalinas – Now I will be the first to admit I am not that great at keeping my catalinas. I probably have some in my trunk at the bottom of my reusable bags, in my car and in my coupon binder bag as we speak. Some are a joke that I throw away right away. But they are based on your shopping habits and are usually competitor coupons or coupons for something you bought to build your loyalty. So if I get a soy milk, oikos, lean cuisine, Sobe Lifewater etc. I will be sure to keep those!
Be on the look out for and stock up on organic and produce coupons – There are a few that do come out in the Sunday paper and a lot of times they are good for 2 to 3 months, os make sure to buy extra papers that week.
Buy organic from coupon friendly organic stores – Trader Joe's and Whole Foods accept coupons and Whole Foods even has store coupons!
Take a good look at everything in your grocery cart – One of the most important things to remember is that you grocery shop for more than just food. Even if you are green with all your health & beauty products and cleaning products you can still get coupons for those and save money even on a trip that you don't have coupons for your food products.
Don't overlook your everyday low-price stores when in a pinch – If you don't have time to compare prices or need something without a coupon you can find some good prices at Aldi's Sav-A-Lot or other everyday low price stores.
Don't forget to bring your own bags! – Most grocery stores offer a $.05 discount for bringing your own bag and helping the environment. I usually use 3 to 5 bags per shopping trip. $.20 discount is not much but it is something. That can cover my bananas or get me an ear of corn when they are at rock bottom price and in season.
Does this really work? For the week of 04/19/2010 There were not many good deals at Kroger so I gathered up my healthy coupons and looked for deals. Below are details of what I bought and how I combined these strategies to still save over 50% while looking for organic and healthy products. This tirp was done at the Kroger in Grand Blanc which doubles three like coupons up to $1.00.
Terra Chips Regular Price $4.99 sale price $3.49 MQ coupon for $1.00
Final cost $1.49
Silk Almond Milk $2.99 Catalina coupon for free Silk Almond Milk
Final cost free
Del-Monte Fruit Cup Regular Price $2.99 sale price $2.49 (2) MQ coupon for $.75/1
Final cost $.99
Dole Fruit Cup Regular Price $2.99 sale price $2.00 MQ coupon for $.75/2
Final cost $1.25
Del-Monte No Sugar Added Fruit cups Price $3.19 sale price $1.80 (2) MQ $1.00/2
Final cost $.80 each
Cascadian Farms Frozen Edamme Beans Regular Price $3.59 sale price $2.99 $1.00/1 printable
Final cost $.99
Naked Juice Regular price $3.49 sale price $2.99 $1.00/1 printable
Final cost $.99
Bolthouse Natural Juice Regular Price $2.99 sale price $2.50 $1.00 mailer from emailing (reads do not double)
Final cost $1.50 or $.50 depending on if coupon is restricted or not
Imagine free range chicken broth and vegetable broth Regular price $2.19 sale price $1.99 $1.00/2 printable
Final cost $.99 each when you buy two with coupon
Oikos Organic Greek Yogurt (3) Regular price $1.75 sale price $1.25 $.50/1 printable, $.50/2 Catalina
Final cost 1 for $.25 and 2 for $.75
Amy's Burrito Regular price $2.49 Sale price $1.99 $.75/1 mailer from emailing
Final cost $.50
Glaceua Vitamin Waters (4) Regular Price $1.30 Sale price $.99 Buy One Get One Catalina
Final cost $.50 each
So as you can see above I used several strategies, I shopped at a store that would maximize my coupons, I had coupons from the Internet, newspaper, catalinas and from emailing companies. If I shoppe with no coupons and nothing was on sale this is $53.61 worth of products. If I shopped sale items with no coupons I would've spent $44.21 saving a little more than 17%. But by getting to a store to maximize my coupons and using them and searching for them I paid $15.29, saving 71%! Now you may not be able to get to a store that can double coupons up to $1. Even without that incentive you'd end up around $25 still saving a little over 50% if the store at leasts doubles coupons up to $.50. So the proof is there! You can save 50% on your groceries if you work a little harder even if you shop organic/natural!
What other tips do you have to reduce your expenses on Organic/Natural products?
Tashena Lynette Gonzales, the author of
Staying Lean in Oakland County
, is a bilingual supply chain specialist by day and frugal blogger by night. She combines her expertise derived from her Bachelor's degree in Marketing with her knowledge as a consumer, as well as all the things she's learned from other bloggers to share information and help others save in her area as well.
Like this deal? Sign-up for the Bargain Blessings Daily Deal e-mail HERE so you never miss another bargain!

*Image by digiyesica