Last month I was invited to the baby shower for a dear childhood friend of mine. I hadn't seen her for more than 10 years, but, as Anne Shirley said in Anne of Green Gables, "True friends are always together in spirit." I could have gotten her the pair of skull and cross-bone baby shoes that were on her registry, but I wanted to take the time to do something special, simple and using my own hands. In today's Methods post, I'm going to show you how to make a diaper cake, step-by-step, that's beautiful, affordable and useful to mommy once the baby comes. You don't have to spend a lot of money to make a thoughtful gift that will be appreciated.
What you need:
84 diapers (I used two Jumbo packages of Huggies Supreme Little Snugglers, Size 1. There were 40 diapers to a package, so I had to use 4 size 2 diapers that I had left over from my own baby's stash, but you could also use new baby washcloths or other items in place of a few diapers).
A few yards of 2″ ribbon
4 satin bows
cellophane paper
some pencils (or thin dowels)
cardboard circle for base
scissors
hot glue gun
Here's what you do:
1. To form the top of the diaper cake, roll up a diaper, starting at the 'open' top end. Wrap a rubber band around the rolled diaper to stop it from unrolling. This will form the center of the top layer.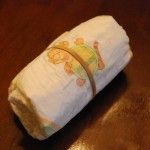 2. Add 7 more diapers to the rubber band.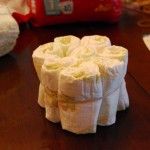 3. For the middle layer, make another top as instructed in steps 1 and 2, then add about 15 more diapers around it using a big rubber band.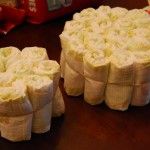 4. Top layer on left, Middle layer on right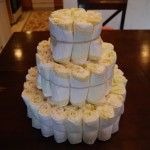 5. For the base, make another middle layer and then add about 30 more diapers around it using another big rubber band.
6. Now that you know how big your cake will be, cut a circular base out of cardboard. I then covered mine in tin foil to make the outside edges look prettier under the bottom layer.
7. Place the largest layer of the cake on the cardboard base.
Assemble the tiers.
8. Secure them together by carefully inserting a few pencils or pens through the base layer and then carefully stacking the other two layers on top of it.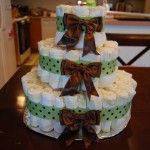 9. Add a ribbon around each layer to cover the rubber bands. I fastened the ends of each ribbon with a safety pin. You can use hot glue to attach a separate satin bow. I managed to attach the bow with the safety pin as I pinned the ends of the ribbon together.
10. To finish off (and help transport) you can wrap the cake in cellophane. Tie at the top with a bow.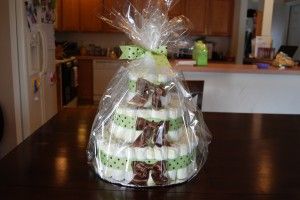 The finished product!
Do you have any other ideas for a frugal baby shower gift?
This guest post is by Jenn from Frugal Mom Jenn! She is a wife, mother of 3 and an occupational therapist by trade. She has learned how to cut her grocery bill in half each month by combining coupons with sales. Join her and learn how to save your family money by finding great deals, shopping smarter and living simply, all without sacrificing quality.
Like this deal? Sign-up for the Bargain Blessings Daily Deal e-mail HERE so you never miss another bargain!