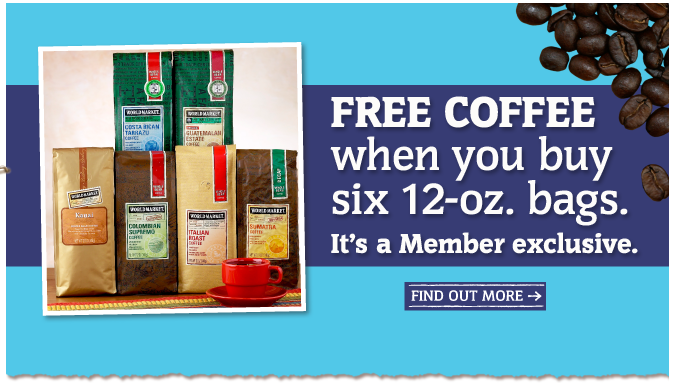 Cost Plus World Market sent out a new $10 off $30 printable coupon to their rewards members this morning . My couponing BFF Alyssa figured out an awesome scenario to score some super cheep coffee!
For every (6) 12oz bags of World Market Coffee that you buy, they will give you a FREE bag of coffee. When you shop on a Wednesday the deal gets even better because they offer double rewards. This means that you will only need to buy 3 bags to get 1 for FREE! You will need to be a Explorer Rewards Member to get the FREE Bag, but it is FREE to sign-up. Just go HERE. You will also get access to a bunch of other great coupons when you sign-up. Here is what your scenario will look like if you shop on a Wednesday to get the best deal:
Buy (6) 12oz Bags of World Market Coffee for around $5.99 *exact price depends on which variety you buy
–$10 off $30 Coupon
=$25.94
+ 2 FREE 12oz Bags
=$3.24 per 12 oz bag! WOW!
When you check-out the cashier will use your member ID to track your purchases. A coupon for two FREE 12oz bags of coffee will then automatically be e-mailed to you. The manager at Alyssa's store told her that the 24oz bags qualify for this promotion too, so if that is case you could buy (3) 24oz bags for around $8.99, add a small filler item to get to $30, and make this deal even more HOT. I would suggest checking with your individual store manager on this though, as the online information on the Coffee Rewards program states that only the 12oz bags qualify.
PS~ If you are already a World Market rewards member make sure to keep an eye out in your mail for a $10 off $20 coupon to make this deal even better! Alyssa just got one in the mail today!
Like this deal? Sign-up for the Bargain Blessings Daily Deal e-mail HERE so you never miss another bargain!