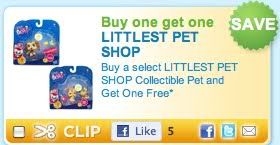 Yay! Their is a HOT new Buy One Get One Free Littlest Pet Shop coupon available over HERE!
Toys R Us has these on sale Buy One Get One Free this week too! This coupon should cross with the sale to result in 2 FREE Littlest Pet Shop toys, but I'm going to say this is YMMV becuase there is no offical policy on accepting a BOGO coupon on a BOGO sale at Toys R Us. If they give you a hard time about it, I suggest explaining that their store will be paid by the manufacturer, just like you would pay cash. Remember, coupons = cash!
Update: These are not on sale BOGO this week, but they have been in the past and hopefully they will go BOGO again soon!
Like this deal? Sign-up for the Bargain Blessings Daily Deal e-mail HERE so you never miss another bargain!

(Thanks My DFW Mommy!)