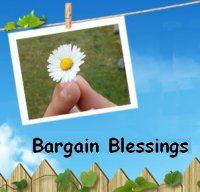 Update: It looks like this i a very busy time of year for everyone, so I am going to go ahead and reschedule the get-together for another date! 🙂
I am super excited to announce the details for the next Bargain Blessings local reader get together! It will once gain be a super casual gathering where we can all relax, talk coupons and deals, get to know each other a little better and hopefully make some new friends!
Monday, November 8th
7:30pm
Satarbucks
9222 Park Meadows Drive
Lone Tree, CO 80124
Phone: 303-779-8061
I also recently got picked to host the Simple Holiday Pleasures House Party, so as a Bargain Blessings reader you are officially invited to my "house party"! House Party is going to be sending me lots of fun freebies to give away, so be prepared to leave with a few treats! 🙂
Please RSVP by leaving a comment on this post. I hope to see you all there!