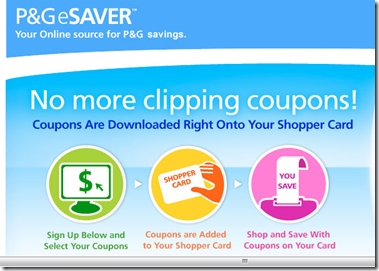 It is a new month and that means that we get new P&G eSaver coupons!
The other news I have is that P&G eCoupons are now back at Kroger stores (including King Soopers)! Yay! Remember that to load these coupons you will need to register your card before you try to view the coupons. If you try to view them first it will tell you there are none available in your area.
Participating P&G eSaver Stores include: Safeway, Carrs, Dominicks, Genuardis, Pavilions, Randalls, Tom Thumb, Vons, Bakers, City Market, Dillons, Frys Food, Fred Meyer, Food4Less (Fremont), Gerbes, Hilander, Jay C Foods, King Soopers, Kroger, Owens Market, Pay Less, QFC, Ralphs & Smith's.
$2/1 Tide Liquid Detergent
$3/1 26-50 oz Tide Stain Release
$0.35/1 Tide To Go
$1.50/1 Olay Hand or Body Lotion
$1/1 Olay Moisturizer or Cleanser
$1.50/1 Olay Bar or Body Wash
$5/2 Nice & Easy Root Touch-Up Products
$2/1 Natural Instincts Product
$1/1 Vicks DayQuil
$1/1 Vicks NyQuil
$4/1 Vicks Sinex
$1/1 Vicks VapoRub
$0.50/1 Ivory Body Wash or Bars
$0.50/1 Safeguard Bar or Hand Soap
$0.50/1 Dawn Product
$3/1 Bounty 12 pk or larger
$3/1 Charmin 24 rolls or larger or any Mega Pack
$0.50/1 Cascade Action Pacs
$0.75/1 Oral B Manual Toothbrush
$1/1 Gain Laundry Detergent
$1/1 Bounce Dryer Bar
$0.75/1 Crest Toothpaste
$3/1 Febreeze Home Collections Soy Candle
$4/1 Febreeze Flameless Luminary Starter Kit
$1/1 Febreeze Noticeables Single or Dual Refill
$1/1 Febreeze Air Effects
$1/1 Fabric Refresher
$3/1 Align ProBiotic Supplement
$2/1 Downy Liquid or Sheets
$1/1 Luvs Diapers
$1/2 Old Spice Body Wash, Deodorants, or Sprays
$2/1 Gillette Venus Razor
$1/1 Tampax Cardboard Product
$7/1 Crest Whitestrip 3D White Pro Effects
$1/1 Gain Fabric Softener or Dryer Sheets
$1/1 Oral B Cross Action Battery Power Toothbrush
$2/1 Tampax Pearl or Compak Pearl Product
$3/1 Oral B Power Vitality Rechargeable Toothbrush
$2/1 Cheer Laundry Detergent
$0.75/1 Crest Rinse Pro Health Multi-Protection
$2/2 Old Spice Body Wash
$0.50/1 Bounty Napkins
$5/1 Clear Blue Ovulation Test
$2/1 Clear Blue Pregnancy Test
$0.75/1 Scope Outlast
$4/1 Prilosec OTC
$1/1 Old Spice Fresh Collection
$1/1 Fixodent
$0.25/1 Can of Pringles
Like this deal? Sign-up for the Bargain Blessings Daily Deal e-mail HERE so you never miss another bargain!

(Thanks The Frugal Find!)