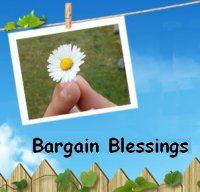 I'm so looking forward to heading out to Starbucks tonight to talk coupons with my awesome readers! If you are in the area, make sure to stop by and say hi!
Bargain Blessings Reader Get Together
Monday, August 30th
7:30PM-9:00PM
Starbucks
9222 Park Meadows Drive
Lone Tree, CO 80124
Phone: 303-799-8061
For those of you who are planning to join us: If you have any trouble finding the Starbucks location just look for the Indoor Sky Diving facility, Starbucks is right in front of it. I can't wait to see you all there!
Like this deal? Sign-up for the Bargain Blessings Daily Deal e-mail HERE so you never miss another bargain!