This recipe is the reason why I splurged on those mushrooms at King Soopers this week. I have not made it in a long time, and with asparagus being such a good deal at King Soopers…I just couldn't pass it up! It is just a really nice break away from the usual!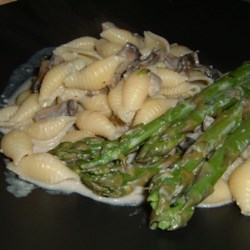 Pasta Shells with Portobello Mushrooms and Asparagus in Pepper Jack Sauce

Ingredients

1 tablespoon butter
1 tablespoon olive oil
1 pound portobello mushrooms, stems removed
1/2 teaspoon salt
1 1/4 cups low-sodium chicken broth
1 (5.2 ounce) package pepper jack cheese
3/4 pound uncooked pasta shells
1 pound fresh asparagus, trimmed


Directions
1. In a large skillet over medium heat, melt the butter and heat the olive oil. Cut the mushroom caps in half, and slice 1/4 inch thick. Cook mushrooms in the skillet 8 minutes, or until tender and lightly browned. Season with salt. Stir in the chicken broth and cheese. Reduce heat and simmer, stirring constantly, until well blended.
2. Bring a large pot of lightly salted water to a boil. Add shell pasta and cook for 5 minutes. Place the asparagus into the pot, and continue cooking 5 minutes, until the pasta is al dente and the asparagus is tender; drain. Toss with the mushroom sauce to serve.
Nutritional Information
Amount Per Serving Calories: 380 | Total Fat: 16.6g | Cholesterol: 35mg
Like this deal? Sign-up for the Bargain Blessings Daily Deal e-mail HERE so you never miss another bargain!

(Thanks All Recipes for the Photo and the recipe which I derived mine from!)