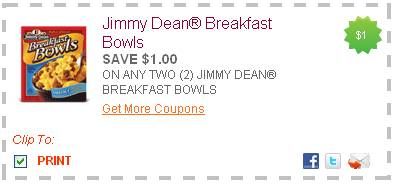 All of the new coupons are starting to roll out for August! Here is what you will find over at RedPlum!
$1.00 ON ANY TWO (2) JIMMY DEAN® BREAKFAST BOWLS
$0.75 off any two (2) BALL PARK® products
$1.00 on Osteo Bi – Flex® Liquid Joint Aid
$1.00 OFF Any Polident® or Super Poligrip®
$1.00 ON ANY RIMMEL PRODUCT
$1.00 when you purchase any THREE packages of Kellogg's® Cereals (10 oz. or Larger, Any Flavor, Mix or Match)
$0.55 off any ONE (1) package of Hefty® Waste Bags
$1.00 On One, Any Variety of Ball® or Kerr® Canning Item
$1.00 on any NICOLE by OPI Nail Lacquer
$2.00 on any Root Rescue product
$0.75 ON ANY ONE (1) JIMMY DEAN® BREAKFAST SANDWICHES
Like this deal? Sign-up for the Bargain Blessings Daily Deal e-mail HERE so you never miss another bargain!