Next time you stop by Safeway, make sure to keep an eye out for each of these new coupon booklets!
Add Dairy to Your Summer Adventure
Most of the coupons in this booklet are manufacturer coupons that can be used at any store, and there are a few store coupons that can be combined with manufacturer coupons at Safeway!
$1/2 Kraft Singles 10.5 oz or larger
$1/2 Natural Shredded Cheese 6 oz or larger
$1/2 Jell-O Gelatin, Mousse or Pudding Snacks
$1/2 Knudsen or Breakstone's Sour Cream or Cottage Cheese 16 oz or larger
$1/1 Lucerne Non-dairy Creamer 32 oz (store coupon)
$0.50/1 or $1/2 Lucerne Creamery Fresh Ice Cream 1.5 -1.75 quart (store coupon)
$1/2 Ben and Jerry's Ice Cream Sorbet or Frozen Yogurt (store coupon)
$1/1 Nestle Coffe-mate Liquid Creamer
$1/5 Weight Watchers 6 oz Yogurt Cups
$1/2 Florida's Natural Permium Not From Concentrate Juice
$1/2 Baby Loaf of Tillamook Cheese
$1/2 Chobani Yogurt 32 oz
$1/2 Sargent Natural Deli Style Sliced Cheeses 5 oz or larger
$1/1 Sorrento or Precious Fresh Mozzarella or Cillengini
$1/2 Kozy Shack 22 oz tubs or 6 pack
$1/2 Pillsbury Refrigerated Cookie Dough
$1/10 Yoplait Yogurt Cups
$1/2 Popsicle Ice Pops and Fudgsicle Ice Pops multi-packs
$0.55/1 Promise Spread Product
$0.50/1 Fage Total Yogurt
$0.55/1 Silk Soymilk
$0.50/2 Simply Juices 1.75 L
$0.50/1 Land O Lakes Butter
$0.55/1 International Delight pint
$0.55/1 Horizon Organic Milk Half Gallon
$0.55/1 Simply Hasbrowns
$0.55/1 Crystal Farms All Whites
$1/2 Lucerne Cheese 16oz shredded or chunk (store coupon)
$1/2 Lucerne Cream Cheese (store coupon)
$1/2 Lucerne Sour Cream 16oz (store coupon)
$1/2 Eating Right Pro-biotic Yogurt multipack (store coupon)
Bayer Health Care Booklet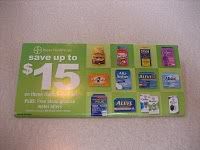 This booklet contains manufacturer coupons and have been spoted at both Safeway and Walgreens.
$1/1 Any Bayer Aspirin or Heart Health Advantage Product 10 ct or larger
$1/1 Any Aleve Product 20 ct or larger, excludes Aleve D
$1/1 Any Aleve D Product
$1/1 Alka Seltzer Product , excludes trial size and Alka-Selzer Plus products
$1/1 Alka Seltzer Plus Product, excludes 4 count Trial Size
$1/1 One A Day Adult or Teen Multivitamin Product
$1/1 Any Flintstones or One A Day Kids Multivitamin product
$1/1 Any Midol Product 16ct or larger
$1/1 Any Phillips Product
$1/1 Citracal Product, excludes Creamy Bites
Free Bayer's Contour or Breeze 2 Blood Glucose Meter wyb Bayer's Contour or Breeze 2 Test Strips 50 or 100 ct
$5/1 A1C Now Selfcheck at Home A1C System
Like this deal? Sign-up for the Bargain Blessings Daily Deal e-mail HERE so you never miss another bargain!

(Thanks Mom's Thrifty Deals for the photos and the coupon list and thank you to all the readers who e-mailed me about these booklets!)