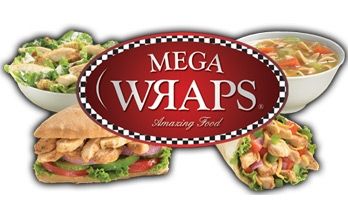 Ok, this is so super neat that I cannot even tell you! Hubby and I were just eating at Mega Wraps yesterday and I was telling him that I have to tell my readers about it because their wraps are just SO amazing. I would eat there every single day if I could! The great part about it is that they are very healthy with completely fresh and completely custom wraps. And when I say fresh I mean FRESH. I am very very picky when it comes to produce being fresh and their wrap ingredients are amazing! To top it all off the service is wonderful. As you can tell I am a BIG fan! If you are anywhere near Denver you just HAVE to try them! Here is where they are located:
Mega Wraps
901 W. Hampden Ave.
Englewood, CO, 80110
When I saw that Weekly Plus had a deal on Mega Wraps this morning I nearly hit the floor! They are offering a $15 Gift Certificate for $7! Yay! This deal has a limited availability, so make sure to buy one before they sell out!
When you are at Mega Wraps, make sure to look at the bottom of their board outside for any specials they are having. Also, they give a fantastic military discount, so don't forget to ask! If you're not sure what to get…I highly recommend the turkey wrap with their oh so good Cilantro Ranch sauce! Oh one more thing…don't forget to get one of their stamp cards…that way you can earn a free wrap!
If you end up getting in on this deal be sure to let me know what you think…but I warn you…you might become addicted!
Update: It sounds like I'm not the only one who loves Mega Wraps. Here are a few other reviews posted by WeeklyPlus:
"I love visiting this place for lunch. Their greek wrap is the best with fresh ingredients including cucumber sauce. The portion size is also perfect for the price." -Jennifer T., insiderpages
"Great wraps! I have had the chicken ceasar and the chicken fajita wraps. Yummy! They even cater. Great prices for what you get!" -Lisa C., insiderpages
"I love this place for breakfast!! It's fast, but so much more fresh. They actually crack the egg in front of you and scramble whatever meat and veggies you want in it. Being lactose intolerant, it's hard to find a quick breakfast sandwhich to go that's not boring without the cheese. I don't even notice the lack of cheese there." -Marci M., yelp
Like this deal? Sign-up for the Bargain Blessings Daily Deal e-mail HERE so you never miss another bargain!