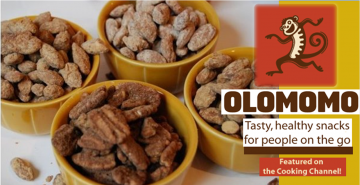 I absolutely LOVE roasted nuts and I am totally getting in on today's Jasmere deal!
Currently, we can score a $40 Gift Certificate to Olomono Roasted Nuts for $186! Remember, the way Jasmere works is that they start out at a really good price and then the more people that get in on the deal, the lower the price goes. It doesn't matter if you buy the deal at the beginning, or at the end you still get the lowest price!
Your $40 certificate to Olomono will allow you to get (4) 10oz bags of nuts! You will get to choose from their four original, exotic flavors: Chai Bliss Almonds, Righteous Cinnamon Cayenne Almonds (formerly Zippy Zen), Cosmic Maple Masala Pecans and Mango Chipotle Zinger Almonds. Yum, yum, yum!
As a side note for all you Colorado readers: Olomono Nut Company is located right here in Boulder, CO! I had the opportunity to chat (via e-mail) with the founder, Justin, this morning. If you are like me and prefer "sweet flavored" roasted nuts you will want to try the Chai Bliss or the Cosmic Maple Masala Pecans (per Justin's advice)!
Like this deal? Sign-up for the Bargain Blessings Daily Deal e-mail HERE so you never miss another bargain!