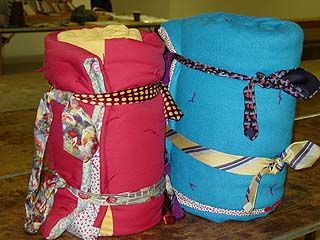 One of the blessings of being frugal is saving resources, primarily for your own family, but also for others – and for being able to give generously without it hurting your own family's budget. You can help others at little to no cost to you. Obviously, you can serve with your time for free. Many organizations need help in the kitchen, or help stuffing envelopes, making phone calls, and more. You can visit shut-ins or the elderly. But what if you want to do things with a little bit more tangible impact?
One great thing you can do is a welcome basket. If you're a frugal shopper, you know you can get lots of food and toiletries for very little. Create a little basket out of what you've gotten, and use it to welcome new members to church, new neighbors, etc. Or use it to give to someone who recently had a baby. You can also cook a little extra one night, and freeze a few portions for families with new members.
If you're crafty, consider making quilts out of scraps. "Ugly quilts" are ugly enough that they have no monetary value, but provide a blessing to the homeless and protection from winter. Making crafts with your kids and bringing them to nursing homes or shut-ins is a great way to brighten someone's day. Craft supplies are very inexpensive, and you don't have to be very talented to create a work of art nice enough to bless someone who doesn't have family members nearby.
There are many more things you can do to bless others through your frugality, but hopefully this will give you a few ideas to get started!
What ideas do you have to bless others through all of our savings?
Bekah blogs at
Motherhood Moment
where she shares tips about saving money and time, family-friendly meal ideas and eco-friendly advice, activities, and much more.
Like this deal? Sign-up for the Bargain Blessings Daily Deal e-mail HERE so you never miss another bargain!