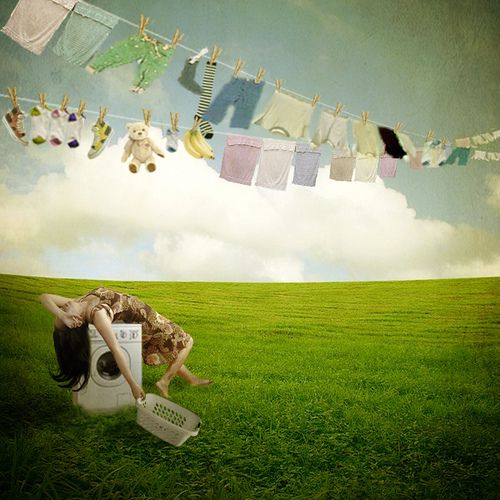 When I was in fifth grade I remember begging my mom to learn how to do laundry. Boy, was that a mistake! After I was taught, I pretty much took over. Thankfully looking back now I see how much it helped my mom, but if I could do it over I would have done a better job and saved her a ton of money!
You see, I thought it was necessary to fill the soap to the brim because after all, the more soap the better. Right? Wrong.
So, to save money on laundry, I find myself doing some of the following:
Use Less Detergent than Recommended
Some of you may think this is strange, but really it's not necessary to use the full amount. Because really, how dirty are the clothes you're washing. Now, when my husband comes in with grimy work clothes after tinkering in the garage, you betcha I'm adding the recommended amount! Most of the time I use about half to three-fourths the recommended amount.
Wash In Cold Water
Over the past few years I've been washing almost all of our clothes(except certain dress clothes, towels, and sheets) in cold water. I haven't noticed a difference in our clothes. Most of the energy used for the wash cycle is in heating the water.
Line Dry
I will admit, I don't do this nearly as often as I should. One of my future purchases will be a nice drying rack. How I miss our clothes line when I was growing up. Now, that is one area I helped save money since I always hung the clothes on the line in the summer. It saves energy, but also is so much easier on your clothing. In fact, you'll extend the life of your clothes by line drying.
Cut Your Dryer Sheets In Half
After I open a box of dryer sheets, I cut all of them in half. It does the job just as well and you just doubled your box!
Use Your Dryer Back to Back
This makes since because if your dryer is already warm when you put the clothes in, it doesn't have to heat up again. Now here's the trick, keeping on top of the laundry and remembering to take one load out and get the other one in right away! Anyone else guilty of leaving a load in the washer overnight a time or two?!
Wear It Twice
You can bet I'm wearing my jeans more than one time before I toss them in the laundry basket. In fact even my husband does this with his dress pants. Sometimes I'm annoyed that they don't fit quite as well the second(or third) time, but they're usually not dirty enough after wearing them just once to justify washing them.
Your turn: What do you do to cut laundry costs? How often do you wash bedding? Do you wear your jeans or other clothes more than once before washing?
This guest post was written by my friend Danielle. Some of you might know her from Denver Metro Moms. If you like that site, you have to check out her new website Love Makes it Home where she provides a glimpse into simple and intentional homemaking on a budget! I just love it!
Like this deal? Sign-up for the Bargain Blessings Daily Deal e-mail HERE so you never miss another bargain!