This week's featured shopper is Sela who sure did rock those coupons at Safeway! Check out everything she got…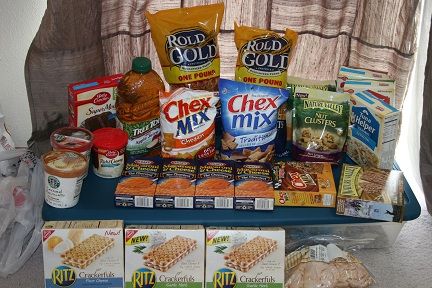 2 bags Rold Gold pretzels
Apple Juice
Betty Crocker Cake Mix
Betty Crocker Frosting
2 pints Starbucks Ice Cream
2 bags Chex mix
4 boxes Macaroni & Cheese
3 bags Nut Clusters (only 2 in the pic because I gave one to a friend who watched my kids while I ran to the store)
3 boxes Hamburger Helper
1 box Chex Mix bars
1 box Nature Valley Granola bars
3 boxes Ritz Crackerfuls (which are delicious, if you haven't tried them yet)
1 pound lunch meat, just because 🙂
Sela spent oly $13.61 after coupons and an $8 RR from Walgreens for everything above! Her total savings listed on her receipt was 82% or $57.44!
Awesome job Sela…congrats on all your "steals"!
Did you have an exciting shopping trip this week? I love to hear how you all are doing…send me a picture!
Like this deal? Sign-up for the Bargain Blessings Daily Deal e-mail HERE so you never miss another bargain!