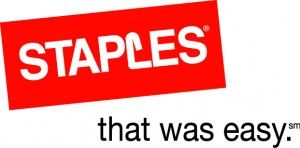 Staples has released a 15% off coupon that is good through June 19th. That makes the already good deals this week even better. Here are two scenairos for an awesome deal on paper!
HP 4″x6″ Photo Paper: $9.99
–15% off Coupon ($1.50)
=$8.49
-$8.99 Staples Easy Rebate
=.50 Money Maker!
HP 8.5″x11″ Multipurpose Paper, 500 Sheet Ream $5.49
–15% off Coupon (.82)
=$4.67
-$3.99 Staples Easy Rebate
=.68
Each of these Easy Rebates have a limit of two per household.
Easy Saver Rebates require you to be a Staples Reward member. It is FREE to sign-up and you do so by going HERE to right in the store. Remember, Staples Easy Saver Rebates will be mailed to you the following month in the form of a store credit to Staples. I use mine to buy all of my printer ink! It is something I'm going to have to buy anyway, so that way I don't mind getting the Staples Reward back instead of cash. Staples rewards members also get a $3 Easy Saver Rebate every time they bring in a used ink cartridge, so don't forget to bring those to the store with you.
You can also use the 15% off coupon to get all of the following items for only .85 each!
BIC Round Stic Grip Ballpoint Pens, Medium, Black – 12 pack
(limit 2/customer)
Quartet EnduraGlide dry-erase markers, fine tip, assorted 4 pack
(limit 2/customer)
Westcott 8″ Recycled Scissors
(limit 2/customer)
#10 Tamper Evident Envelopes – 20 pack
(limit 2/customer)
Staples/Dickies Fashion Composition Books and Notebooks
(limit 2/customer)
Poly Bubble Mailers, assorted sizes
(limit 2/customer)