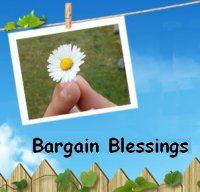 I am super excited to announce the first ever Bargain Blessings Local Reader get together! I have been wanting to plan this for some time and now that the summer is winding down it is actually possible! My plan is for it to be a super casual gathering where we can all relax, talk coupons, get to know each other a little better and hopefully make some new friends! Here are all the details:
Bargain Blessings Reader Get Together
Monday, August 30th
7:30PM
Starbucks
9222 Park Meadows Drive
Lone Tree, CO 80124
Phone: 303-799-8061
Please RSVP by leaving a comment on this post or sending me an e-mail. I hope to see you all there!
Like this deal? Sign-up for the Bargain Blessings Daily Deal e-mail HERE so you never miss another bargain!